VIVA Telecom Hosts the world HR Guru Dave Ulrich for a workshop about The Next Step for HR Value Creation
Professor Ulrich and Allan Fred have trained VIVA Telecom HR Senior Management the shape thinking on how to transform HR practices so that they are outside/in:   aligned to customer needs and integrated around organization capabilities to build this employee, customer, and investor results. This day that is organized by Vigor Events included around 10 trends shaping HR
transformation from the outside/in.  Dave Ulrich began the workshop with addressing the changing business conditions and the implications for managing individual ability, organization capability, and leadership.  Dave highlighted the required organization capabilities of the future and what leaders should know and do to respond to future business realities.
The workshop ended with implications for the HR department.  Participants had the chance to assess these trends and look for areas of improvement.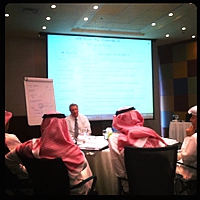 Dave Ulrich is a Professor at the Ross School of Business, University of Michigan and a partner at the RBL Group, a consulting firm focused on helping organizations and leaders deliver value. He studies how organizations build capabilities of leadership, speed, learning, accountability, and talent through leveraging human resources.  He has helped generate award winning data bases that assess alignment between strategies, organization capabilities, HR practices, HR competencies, and customer and investor results.
He has published over 200 articles and book chapters and over 25 books. He edited Human Resource Management 1990-1999, served on editorial board of 4 Journals, on the Board of Directors for Herman Miller, and Board of Trustees at Southern Virginia University, and is a Fellow in the National Academy of Human Resources.